The Frontier
From 1778 to 1780, Sinking Valley was one of the most dangerous places in North America.
In the fall of 1777, the British Army captured Philadelphia, sending the continental and provincial government into exile. The Congress moved to York, Pennsylvania; the state legislature, what was left of it anyway, to Lancaster. This was great news if you were a Tory (aka Loyalist), that is, a supporter of the King. The capital city of this upstart American republic striving for independence was in the hands of the King's army -- surely the rebels would be defeated soon and life would return to normal for the subjects of the British Empire.
On the frontier of central Pennsylvania, the Tories were inspired. Throughout the winter, British agents from Fort Niagara in New York visited the Tories living in and around Fort Roberdeau,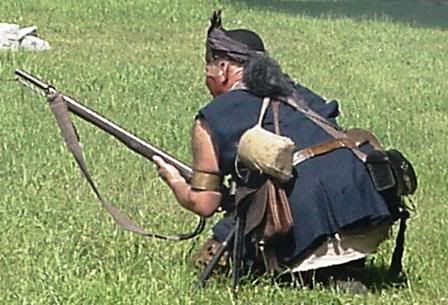 making promises. They suggested to the Tory farmers, always eager for more land, that if they helped put down the rebels, the King would be VERY appreciative and would reward their loyalty by giving them the lands that were now occupied by the rebels. On the other hand, if they did not help, the King would not be amused. The agents were often accompanied by Seneca warriors who could be very intimidating. Even Tory settlers feared them, unsure about exactly where the allegiance of this nation lay. Rumor and speculation fueled terror all along the frontier, regardless of politics.